Another entry in our equipment reviews – the Fenix TA21 LED Flashlight.
For years starting in Law Enforcement we used Surefire Flashlights and Streamlight Flashlights – then like a Phoenix up from the ashes comes Fenix Flashlights.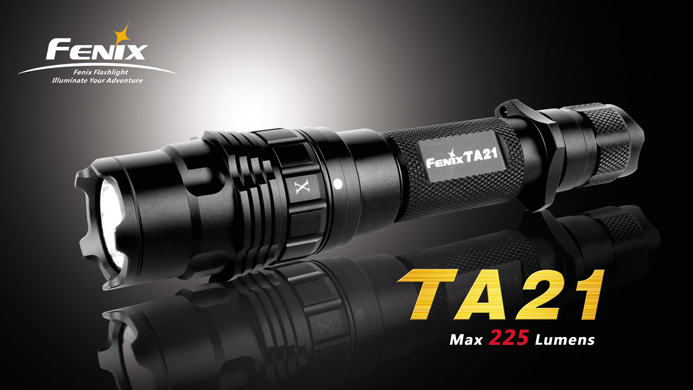 Surefire for years had been the standard for pocket and tactical flashlights. Another trademark of Surefire was that they were the most expensive production flashlights on the market bar none.
Streamlight in my opinion has made the finest duty carry flashlight for years, a light by which all other duty carry flashlights can only strive measure up to and that is the SL-20X, aluminum bodies full size rechargeable flashlight.
When you grab a SL-20X, you know you have a flashlight in your hands, it is incredibly solid with no rattling parts or rotating parts. Each time you press the ON switch the light produces a pre-focused beam of blazing light. The SL-20X is anodized aluminum and only comes in black. With both a AC/DC charger sleeve the light can be charged almost anywhere and always ready when needed. The light itself is solid enough to be a formidable impact weapon which makes it ideal for use on patrol.
Maglite does not even compare to the SL-20X, the two are not the same caliber lights, they do not function the same and anyone who makes the comparison between the two has no practical street experience using both lights. I will not knock Maglite as they have a good product for the market they sell too but for a professional, the Maglite is not a logical option. The one feature of the maglite that turns me off is the adjustable beam. I have had many Maglites in my day and none of them ever maintains a focused bean unless you focus it each time you turn the light on. When on patrol you need a light that is pre-focused and precise each time you turn it on. You don't have time and it's a safety issue to have to fiddle with the body and head to focus the beam. Over time the Maglite also becomes loose and the threads on the focus head become loose and worn. It is the incredibly sensitive focus head and its design that makes the Maglite a non-contender in our best equipment inventory. In all my years of using flashlights I have never found the wide beam of the Maglite to be of any use. The oversized rounded head of the Maglite also makes it much harder to hold when having to use the flashlight as an impact weapon and I don't like the ON/OFF switch on the C cell and D cell size Maglite.
Features:
TA21
•  Cree XR-E LED (Q5) with lifespan of 50,000 hours
•  12 modes of output with mechanical revolving dimmer system (Patent)
•  12 modes of output with 2 x 3V CR123A batteries:
Mode I(4 Lumens, 170Hrs) ->
Mode II (18Lumens, 37Hrs) ->
Mode III (35Lumens, 18Hrs) ->
Mode IV (50Lumens, 12Hrs ) ->
Mode V (80Lumens, 7Hrs ) ->
Mode VI(120Lumens, 4Hrs) ->
Mode VII (160Lumens, 2.5Hrs) ->
Mode VIII (195Lumens, 2Hrs) ->
Mode IX (225Lumens, 1.5Hrs) ->
Mode X (230Lumens Strobe , 3Hrs) ->
Mode XI (18Lumens Flash, 370Hrs) ->
Mode XII (SOS, 30Hrs) ->Repeat Cycle
•  OP textured reflector, throws beam over 200 meters
•  Constant current circuit – maintains constant brightness
•  Powered by 2 x 3V CR123A Lithium batteries,or 1 x 3.7V 18650 Li-ion battery
•  168mm (Length) x 25.4mm (Diameter) x 39mm (Head)
•  168-gram weight (excluding batteries)
•  Reverse-polarity protection circuit board
•  Made of durable aircraft-grade aluminum
•  Premium Type III hard-anodized anti-abrasive finish
•  Waterproof to IPX-8 Standard
•  Toughened ultra-clear glass lens with anti-reflective coating
•  Tactical tailcap switch with momentary-on function
•  Anti-roll, slip-resistant body design
•  Included accessories: lanyard, body clip, two spare o-rings, and rubber switch boot
If you want to buy a Fenix, Surefire or Streamlight flashlight from an authorized dealer that can service any and all of your flashlight needs please visit Mike Green at The Army Store in Dallas, TX.  His website can be located here – The Army Store.
TagTech
CodingCREW